Disclaimer: We are affiliates for ReShape and may get commissions for purchases made through links on this page. We have also been given free access to a Reshape account for writing this review.
Losing weight can be very challenging unless you use the right tool that's perfect for you.
Weight loss apps have got its reputation for helping a lot of people out there who want to shed a few pounds even on a tight schedule.
Some may require a monthly or a weekly subscription, and some may also grant users free lifetime access to their basic features.
With a weight loss app, you can keep track of your calories, develop healthy eating habits, and stay motivated throughout the process.
The best part is that some apps have features that let you sync data with any fitness device of your choice.
If you've been struggling to lose weight and don't have enough time to hit the gym or do some research to create your own plan, a weight loss app might just be able to help.
What is ReShape Weight Loss App?
Reshape – Weight Loss At-Home is a mobile app specially created for women to help them start losing weight effectively even without hitting the gym.
It is developed by Reshape Me, UAB, who also created the Reshape – Fasting Tracker that focuses more on Intermittent Fasting.
The company aims to be the largest community for women with a primary goal to reshape both their bodies and mind with their mobile application.
Features
The Reshape app is created to help women lose weight with its amazing features that are perfect for busy moms who are either working from home or don't have time to visit the gym.
Progress Tracking
With the Reshape app, you can easily keep track of your habits and focus more on the important part of your weight loss routine.
Weight Tracker – this amazing feature will keep track of your weight and tell your progress to reach your goal weight.
Water Tracker – a very helpful tool that encourages you to log your water intake.
Workout Tracker – another tool to keep track of your daily exercise routines.
The Reshape weight loss app will create a personalized workout plan for you after answering the quiz when you sign up for the first time.
Workouts can vary depending on your level of activity and can only take 15-20 minutes.
Beginner
Slightly Active
Very Active
The app also features a wide range of meal plans that are created especially for you.
Reshape also has free recipes that you can easily access and it will also tell you the ingredients needed along with a step-by-step procedure on how to prepare your meal.
Shopping List
Another amazing feature of the Reshape weight loss app is a shopping list that is based on your meal plans.
This way, you'll have a complete list of ingredients without manually checking every meal plan on the app before visiting your local grocery store.
You may also add other items to your shopping list.
Pedometer
The app also has a built-in pedometer that automatically logs your steps or you can also enter your data manually.
Track Automatically
The Reshape app can sync with Apple Health to provide accurate results based on your data.
This way, you can keep track of your progress easily even if you don't always use the app.
Don't worry! The app will ask for your permission first before it syncs all your data.
Personalized Recommendations
Reshape users will also be provided with daily recommendations that are specially made for you.
28-Day Weight Loss Challenge
Apart from the app's impressive features, they also have a 28-day Reshape weight loss challenge for their users.
PROS and CONS
PROS
Huge database of recipes and exercises
Very accessible scientifically-backed workout videos
Includes HIIT routines
Different meal plans that are based on the person's dietary preferences
Workouts can be based on your target zone
CONS
Doesn't have a one-on-one coaching feature
Some app and website bugs the company is working through
Pricing
Reshape is available in different plans:
Weekly ($7.49)
Monthly ($19.99)
3-month ($39.99)
6-month ($47.99)
Yearly ($51.99)
Prices also vary by location.
Why use a weight loss app?
A weight loss application can help you achieve your fitness goals in the palm of your hands.
They're very easy to use and you easily have it on any mobile device with or without the internet.
You'll be provided with customized workout routines, meal plans and more that will serve as a guide that you need to follow.
Plus, some weight loss apps can give you access to certified health coaches that will guide you on your weight loss journey.
Although it may take a while for you to see the results, it's still a very good option to lose weight without spending thousands.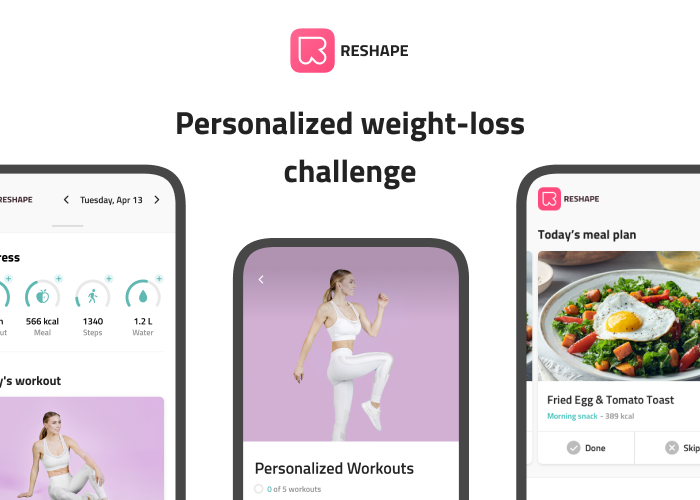 Why do I never lose weight?
We've all been there and it's totally normal.
No matter how hard you try to push yourself to get rid of that extra fat, your efforts just don't seem to be working.
And sometimes it can be very frustrating for us moms since we want to be good role models for our children.
However, it is also important to determine certain factors to know which part of your routine requires more attention.
One possible reason could be your diet that might be stopping you from getting in shape or it could be something else.
These factors can vary per person so you might consider changing some of your workout or eating habits to see if there's progress.
How much weight can you lose in a month?
Some people can lose up to 10lbs a month while some don't, even on a strict diet plan.
There are just so many things that affect our weight loss journey unless you choose the best tools for you.
You may consult a medical professional or a health coach to get expert advice to lose weight effectively.
Losing weight with an app is also guaranteed effective but it requires discipline and commitment to achieve the best results.
Is Reshape App Good for Weight Loss?
YES
Overall, we think the app has impressive features that are great for losing weight effectively especially the workout routines and meal plans.
The shopping list is also a very good feature since it is based on your meal plans and you can easily access it in one tap through the app.
However, the mobile application could have been better since there were a few bugs on the app and website.
Here are a few screenshots from our experience:
Reshape Mobile app
Reshape Website
Most of the images aren't loading but we can still utilize the weight loss features on both the app and website so it's still useful. We did eventually get the images to load, but had to restart the app a few times.
The Reshape app also has quite a few negative reviews from its users on the App Store who experienced technical difficulties.
Good thing it was acknowledged by the app developer and are constantly working on fixing issues.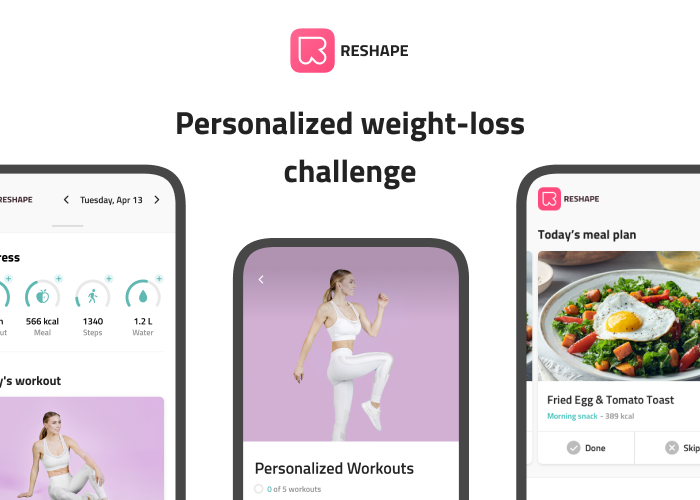 Are there other weight loss apps?
YES
There are other weight loss apps such as:
What Weight Loss App do you Recommend?
Noom is also a very good weight loss app that has less bugs on their platform to give you a good weight loss experience.
The app is very user-friendly and it also has almost the same features as the Reshape app, but way better.
You may also check our journey with Noom here in case you're considering another effective mobile app other than the Reshape app.