Disclaimer: We are affiliates for The Baby Manual and may get commissions for purchases made after clicking links on this page.
Starting a new family can be a huge responsibility, that's why you need to get the best tips from The Baby Manual.
I could still remember the first time I held my child in my arms and it was one of the best days of my life.
As a parent, I never knew what lies ahead of me and I always thought raising a child didn't include a guide.
Then I told myself, "I couldn't do this on my own" and called my mom to ask for some "expert" advice.
Just like the usual, she scolded me for not attending the parenting classes that she recommended.
I guess that's what I get for not taking her advice, but I had my reasons too.
Attending parenting classes didn't seem to fit into my very tight schedule and I was always tired all the time.
Well, at least I was able to manage it smoothly, sort of.
If you're a new parent, you'll never know what to expect all the time and you'll continue to ask questions such as;
"When did I last changed the baby's diaper?"
"I wonder if you popped already."
"Didn't I just changed your diaper?"
"Oh! what's that smell?"
What's worse is that you'll also find it hard to follow your normal routine since you need to make sure that the baby's fine.
Sometimes, taking care of a child can trigger Post-Partum Depression, and it will only make parenting extra challenging.
And with the Covid19 pandemic, it might be harder for you to attend parenting classes since it plays a vital role in parenting.
So now, let's talk about how The Baby Manual can make parenting exciting and manageable.
What is The Baby Manual?
The Baby Manual is an award-winning video series created by Oksana Korsakova to help expecting parents get expert advice on parenting.
She wants fellow parents to be ready on their journey on sleepless nights and hours of laughter with their newest bundle of joy.
Classes include science-backed techniques that are safe and effective, and each method is explained in detail through step-by-step instructions.
Courses are also supported by doctors, lactation specialists, parents, and more, to give you the best expert advices on parenting.
The Experts Behind the Course
Selena Brown – a certified child car seat safety technician
Taryn Mickus – an International Board Certified Lactation Consultant, founder of Milk Nook
Becky Roosevelt – a certified child sleep consultant, founder of Snug as a Bug Pediatric Sleep Consulting
Heather Ward – teaches baby care, breastfeeding, and childbirth preparation courses
James Barr – a paramedic and a certified CPR instructor
Kasia Hopewell – a naturopathic doctor practicing general family medicine
Karen Schwarzbach – a certified child sleep consultant
Kirsten Kell – a Licensed Marriage and Family Therapist
Lori Collins – a Licensed Marriage and Family Therapist
Liisa Hale – teacher and director in full-day childcare programs
Robin LeGrand – the owner of A Nanny Connection
Maria Osmena – a board-certified pediatric doctor and owner of LiveWell Medical Clinic
You may also click here to learn more about the experts.
How will The Baby Manual Help New Parents?
Korsakova also believes that taking care of a baby isn't just the typical routine that's why she created classes for The Baby Manual.
The principles of The Baby Manual are honesty, humor, and practical information to make the course less serious and boring.
Course Overview
Part 1
Welcome! – A short introduction on the Courses
Baby Gear
Features the necessities for your baby such as; nursery, diaper supplies, breastfeeding, clothing, grooming, car seat, etc.
Getting Home
This lesson is where you'll learn the proper methods of seat installation, how to secure the baby, greeting pets, and what to expect on the first day home.
Early Weeks –
On this part, you'll be taught about what to expect, how to create a routine, nighttime parenting, baby blues, and how to bond with your baby.
Breastfeeding
This section is where you'll learn the importance of breastfeeding and will get the best advice on the proper breastfeeding method.
*The Breastfeeding class is FREE during the Covid-19 outbreak. Check It Out!
It will also talk about:
Benefits
Common Setbacks
Proper Latch
Positions
Signs of Fullness
Hunger Signs
Milk Supply
Engorgement
Nipple pain
Burping
Manual Expression
Pumping
Storing Milk
Warming Bottle
Plugged Ducts
Coffee & Alcohol
Nursing in Public
Formula Feeding
Although breast milk is the best for babies, this section will also teach you about formula types, preparation, planning, correct bottle feeding, and mixed emotions.
Diapering and Bathing
Here is where you'll learn the proper and simplest way to diaper and bathe your baby since it will teach you about;
Pee, Poo, & Spit Ups
Changing Diaper
Cloth Diapering
Surviving Blowouts
Cutting nails
Sponge Bath
Tub Bath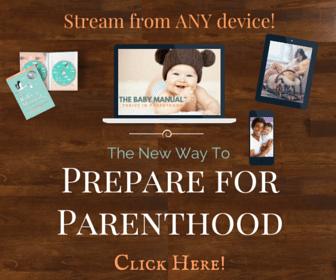 Part 2
Reducing Crying
Babies cry all the time and if you master this part of the course, you'll be able to understand and manage everything easily.
This section also tells you why babies cry and other stuff such as Swaddling, Rocking, Shushing, Pacifier, and Colic.
Health and CPR
A very important section of this course so you'll know what to do when you encounter health concerns.
Diaper Rash
Cradle Cap
Baby Acne
Diarrhea/Constipation
Gassiness
Colds & Fever
Basic CPR
Sleep Routine
Learn how to understand your baby's sleep routine as this section will tell you how important sleep for babies is and what room environment is recommended.
It will also teach you about;
Early Bedtime
Timing Naps
Sleepy Cues
Setting Routine
Length of Naps
Avoiding Crutches
Night Time
Sleep Training Methods
Fun Activities
Learn how to the suitable playtime for your little one since this section features;
Getting Outside
Mothers' Groups
Talking to Baby
Singing & Music
Tummy Time
Other Ideas
Out and About
Find out how to prepare for a trip by learning which baby essentials need to be packed and go.
This section teaches you about;
Packing Diaper Bag
Feeding On The Go
Changing On The Go
Air travel
Finding Childcare
No one wants a stranger to take care of your little one and this is one of the most common struggles of a parent.
This section features;
Choosing Care
Nanny
Daycare
Advance Preparation
Pumping at Work
Emotional Challenges
Adjusting to Parenthood
Parenting isn't easy at first and that's okay because this section teaches you how to adjust to parenthood so you won't get frustrated.
This last but not the least section talks about;
Transition of Identity
Increase in Conflicts
Finding Alone Time
Postpartum Depression
Challenges for Dad
Sex Life
Trusting Your Gut
Other Products
Other than the digital course, you can also buy gifts for an expecting parent or yourself by choosing from a wide range of products on their website.
The Baby Manual Complete Guide
The Baby Manual Breastfeeding
The Baby Manual Healthy Sleep
The Baby Manual Organic Onesie Set
The Baby Manual Complete Set for New Parents
The Baby Manual Washable Silicone Bib
The Baby Manual Organic Swaddle Blanket
Click here to shop The Baby Manual
The Baby Manual Reviews
Here's what people can say about The Baby Manual:
Why Get The Baby Manual?
The Baby Manual believes that parents are also leaders and every leader also needs to become a follower by following or applying what they've learned from the course.
All the sections feature the best and safest advice since these are backed by medical experts that you can trust.
If you're a new parent, this is the best guide that you can use and it's the most suitable course for parenting especially in today's situation.
Since there are no physical classes yet, this is the safest and best alternative to learn.
Plus, you can also get back on the course at your preferred time especially when you opt for their premium bundle.
Awards
To give you more reason to get the course, here are the awards they got for the very helpful content:
MOM'S CHOICE AWARD for their Breastfeeding Program and Healthy Sleep Program
Mr. Dad Seal of Approval for serving as a great guide for fathers who often get involved with their children.
How Much is The Baby Manual?
Getting the right tips and advice is very important and The Baby Manual has all the answers to your parenting questions.
All options have 4 hours of premium content and you can choose from;
Want to get your hands on The Baby Manual? Click here to get one.